Saturday, May 28 hrs 8am – 2pm
Celebrate Memorial Day with Military Appreciation Discounts
Flags, Flags, Flags!
Meats, Veggies, Sauces, Breads, Pastries & Goodies for Cookouts!
Tuesday, May 31 hrs 10am – 2pm
Saturday, June 4 hrs 8am – 2pm
Tuesday, June 7 hrs 10am – 2pm
Locally Spring Vegetables, Handmade Jewelry, Soaps, and other old-fashioned crafts. Homemade pies, cakes, cookies, and other tasty goodies
Saturday, June 11 hrs 8am – 2pm
COOKIES AROUND THE WORLD!!  Celebrating World Refugee Day with Interfaith Refugee Ministry.
Buy a box and fill with cookies.  Many different cookies donated by local businesses & individuals!
Tuesday, June 18 hrs 10am – 2pm
What's Cookin?
MOVE OVER, MEAT; IT'S TIME TO GRILL SOME VEGETABLES! by Tammy Kelly
Click here for recipe ideas…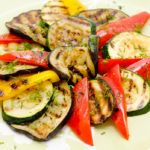 The Market has it's own cookbook!  For sale at R'Garden (first farm booth on left as entering the building from Front Street).  Just $10 per copy — makes a great gift!