NOW ACCEPTING: SNAP/EBT
Open Tuesdays 10am – 2pm
Saturday, June 25 hrs 8am – 2pm
Joining Poor Charlie's for "Honey Bee Day–No Bees, No Blueberries"
featuring Bridgeton Blueberries and Local Honey
Bee Equipment Displays and Demos by Pamlico County Beekeeper and vendor, Terry Weaver; this year's first honey harvest will be for sale!
(and Julie says to "Bee sure to check out our HoneyBear BeeKeeper!")
Saturday, July 2 hrs 8am – 2pm
"Military Appreciation Day" Celebrating Independence Day!
Vendor discounts for retired and active duty military personnel.
Thank you for our freedom!
Saturday, July 9 hrs 8am – 2pm
"Korn and Kountry Day!"
Serving up Corn Chowder Bowl and Classic Country Music while you're shopping the many vendors offering local farm products & unique crafts
Saturday, July 16 hrs 8am – 2pm
Book Signing by local author Joey Jones
Local Grown: Vegetables, Fruits, Honey, Meats!
Local Made: Metal, Wood, Clay, Cloth Crafts!
Local Baked: Pies, Cakes, Breads, and More!
Saturday, July 23 hrs 8am – 2pm
Christmas in July!
Holiday shop when there's no pressure:  have fun browsing the many locally-made, one-of-a-kind gifts
What's Cookin?
Blueberries: the Hallmark of Summer
by Tammy Kelly
Click here for recipe ideas…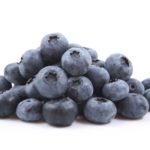 The Market has it's own cookbook!  For sale at R'Garden (first farm booth on left as entering the building from Front Street).  Just $10 per copy — makes a great gift!